Worksheet
Download Math Worksheets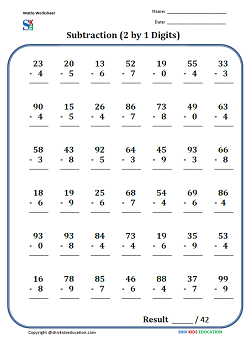 Addition Worksheets
Subtraction Worksheets
Multiplication Worksheets
Division Worksheets
Add-2by1

Here we have provided maths worksheets for class 1 to class 4 students, you can download it in PDF form by clicking on the download button above. Going forward, we will put some more worksheets of Addition, Subtraction, Multiplication, and Division.
If you are looking for more interesting topics, Do click on the following link to grow your knowledge:
GK Topics
Class Wise GK
Maths Topics
English Topics
Top 10
If you want your child to learn about some other topics of General knowledge like Animal GK, Solar System GK, Interesting facts about animals and birds, Science GK, Maths GK, Logical maths riddles, General Riddles, World's Top 10, Sports GK, Inventors, and their invention, Please do visit our YouTube channel by clicking on Shiv Kids Education.
After clicking on the above URL, You will reach to our YouTube channel named "Shiv Kids Education" with a Home page that contains recently added videos. You can access all videos by clicking on "VIDEOS" tab over there and can also view playlist videos by hitting the "PLAYLIST" tab option.